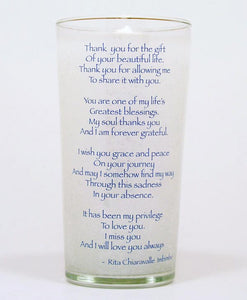 Lighting a memorial candle is a custom found in many traditions throughout the world. It is a perfect companion for meditation and prayer.  Memorial Candle with the quote- 
Thank you for the gift
Of your beautiful life.
Thank you for allowing me
To share it with you.

You are one of my life's
Greatest blessings.
My soul thanks you
And I am forever grateful.

I wish you grace and peace
On your journey
And may I somehow find my way
Through this sadness
In your absence.

The sentiment found on the label of each Divine Light candle is removable and can be reapplied to any surface. This scentless sympathy candle will burn for 72 hours.
5"h x 2"w