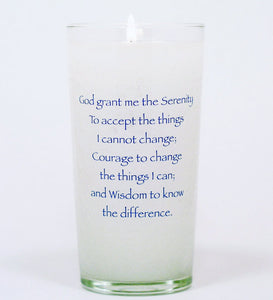 Lighting a memorial candle is a custom found in many traditions throughout the world. It is a perfect companion for meditation and prayer.  Memorial Candle with the quote- 
God grant me the serenity
To accept the things
I cannot change;
Courage to change
the things I can;
and Wisdom to know
the difference.
The sentiment found on the label of each Divine Light candle is removable and can be reapplied to any surface. This scentless sympathy candle will burn for 72 hours.
5"h x 2"w