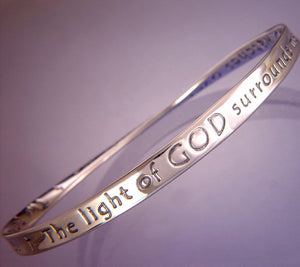 This sterling silver bracelet is beautifully engraved with the quote,
The light of God surrounds me;
The love of God enfolds me;
The power of God protects me;
The presence of God watches over me.
Wherever I am, God is!
                                           -James Dillet Freeman
The geometric form is known as a Mobius strip, after the German mathematician August Ferdinand Mobius. It represents the seeming paradox of a plane without end, or one of infinite length. As such it has become the symbol for infinity, an appropriate and symbolic form for this famous quote.