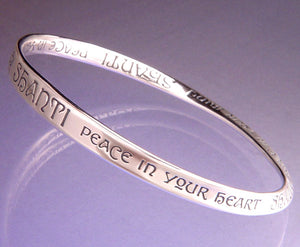 Sterling silver mobius bracelet beautifully engraved with Shanti and the prayer-

Peace in your heart
peace in your mind
peace in your body

Shanti is the Sanskrit word for Peace.
The geometric form is known as a Mobius strip, after the German mathematician August Ferdinand Mobius. It represents the seeming paradox of a plane without end, or one of infinite length. As such, it has become the symbol for infinity, an appropriate and symbolic form for this prayer.