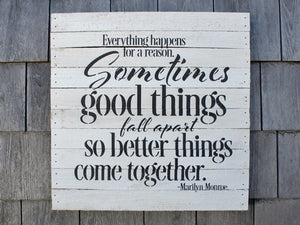 Marilyn Monroe Reclaimed Sign reads-
Everything happens for a reason.
Sometimes good things fall apart so better things come together.
-Marilyn Monroe
This beautiful American made wooden sign is created from salvaged and reclaimed wood.
Black text on variations of off white and grey wood. As with any reclaimed wood, there will be variations in the patterns of wood, including knots and imperfections and will vary by piece. 
Dimensions are 14.5"x 14.5" x 1.5"