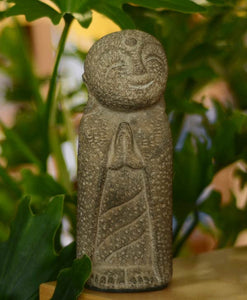 Jizo Bodhisattva is a much beloved figure in Buddhism.  His role is to protect women, children and travelers .   This serene Monk is the image of reverence.  He is a wonderful reminder for us to see the sacredness in all things.  
Our version depicts him in the Namaste pose or the Anjali Mudra, which  is performed by the pressing of the palms of the hands together in a gesture of reverence or Pranam.  The hands are held at the heart chakra. Anjali is a sanskrit word for offering. This is a gesture which expresses humility.
Namaste is a Hindu greeting used in yoga practice.  Namaste literally means " I bow to you" or the spirit in me honors the spirit in you.
Jizo Monk Statue measures 8" H x  3" W x 3"D.  Cast in antique brown volcanic ash and weatherproofed for indoor or outdoor use.   
Made of crushed basalt and cement.