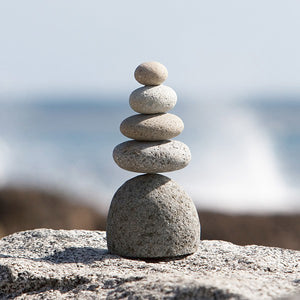 5 Natural river rocks stacked with a metal rod support in the middle.
A cairn is a stack of stones used to mark a path or sacred place.  Cairns are found all over the world and used by many cultures. 
The word Cairn derives from the Gaelic meaning "mound of stones built as a memorial or landmark."
Small Cairn measures 9.5" H x 4" W x 3" D. Stones will vary in color and size.