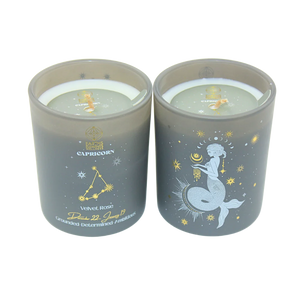 A celestial creation that honors the determined and ambitious nature of this earth sign, while enveloping your space in the opulent aroma of velvety roses. Meticulously crafted with care and intention, this candle captures the essence of Capricorn's resilience and elegance.
Capricorn's symbol, grace the surface, embodying the sign's commitment and perseverance.
As the candle burns, the sumptuous scent of velvet rose fills the air, infusing your surroundings with its lavish and captivating fragrance. Lighting the wick envelopes you in a sense of sophistication and sensuality, aligning perfectly with Capricorn's pursuit of success and refinement.
Capricorn Season: December 22 – January 19
Candle Scent: Velvet Rose
Hand-poured, natural soy wax. Sourced from organic ingredients.
100g. 3.5 oz. 20 hours burn time
Image is front and back of a single candle, only one candle is included