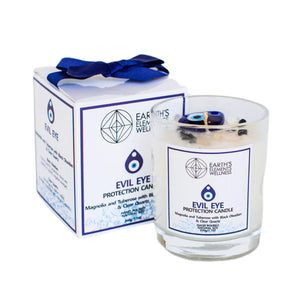 Black Obsidian is a strong psychic protection stone and supports to absorb negative energies. Clear Quartz known as the master healer enhances and amplifies any energy or intention. Evil eye charms are believed to protect the wearer or their possessions from negative energy or malicious intentions. They are often worn as jewelry, carried as keychains, or hung in homes and businesses.
Once your candle has burned, retrieve your crystal and carry it with you or place it in a sacred space to bring good intentions to light.
Formulated with a blend of organic herbs and essential oils with Magnolia and Tuberose. Hand-poured and made with 100% soy wax. The soy beans are natural, renewable and biodegradable. Burns clean without harsh chemical being released into the air.
Made from soy
Cotton Wick Contained in Glass, for an even melt
Crafted in: California
Size: 7.10 Oz 200g
50 Hours burn time Approximate
Measurements: 3.5"L x 3.5"W x 4"H