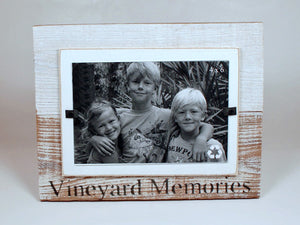 Our Exclusive Design!
Our handcrafted rustic Beach frames are created with recliamed wood, lending themselves to a distresed and worn look. Whitewashed and natural wood finish.   
The bottom of the frame is painted with Vineyard Memories.
A wonderful way to display your memories of time spent with family and friends on our beautiful Island of Marthas Vineyard!
This wooden frame measures 9" x 7" and holds a horizontal 4" x 6" photo.
Two small screws unfasten on either side of the glass on the front of the frame to hold photo in place. 
Frames are made from reclaimed wood and are intended not to be "perfect" and will be worn, weathered and posess knots, cracks, old nails, small holes etc. That is part of thier beautiful charm!